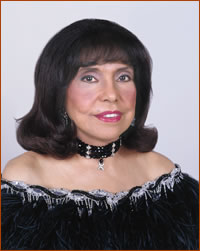 EUNICE W. JOHNSON

Mrs. Eunice W. Johnson is a business leader and humanitarian, particularly concerned with the encouragement of Black youth. Mrs. Johnson is the producer and director of the world's largest traveling fashion show, EBONY FASHION FAIR, which has donated over $49 million to the United Negro College Fund and other African-American charities. Mrs. Johnson is also the secretary-treasurer of JOHNSON PUBLISHING COMPANY, INC., publishers of EBONY and JET magazines, and the largest Black-owned publishing company in the world.
She was born in Selma, Alabama, where her father, Dr. Nathaniel D. Walker, practiced medicine for more than 50 years. Her mother, Mrs. Ethel McAlpine Walker, was the principal of the high school and taught education and art at the college level at Selma University. Mrs. Johnson received her high school education there. Selma University was founded by her maternal grandfather, Dr. William H. McAlpine, who was also its second president. He was the founder and first president of the National Baptist Convention, U.S.A., Inc.
Mrs. Johnson received her B.A. degree in Sociology, with a minor in Art, from Talladega College in Talladega, Alabama. She earned her master's degree in Social Work from Loyola University in Chicago. In addition, Mrs. Johnson took courses in studies of the Great Books at the University of Chicago. She also studied Journalism at Northwestern University and Interior Decorating at the Ray-Vogue School of Design, which is now the Ray School of Design.
Mrs. Johnson is the wife of Mr. John H. Johnson, publisher and chairman of JOHNSON PUBLISHING COMPANY, INC., which he founded in 1942 with her love and support. Mrs. Johnson also named the company's flagship magazine, EBONY, which has remained the world's most popular Black oriented magazine every consecutive year since its founding in 1945. Their daughter, Mrs. Linda Johnson Rice, is president and CEO of the company. Their beloved son, John H. Johnson, Jr., a photographer for EBONY and JET, passed away in 1981 at the age of 25 following a long illness. Mrs. Johnson writes a special fashion feature which appears in EBONY each month. Since 1961, Mrs. Johnson has been producer and director of EBONY FASHION FAIR. The traveling fashion show makes 200 appearances in its over 185 city tour of the United States and the Caribbean.
Mrs. Johnson was also involved in the creation of Fashion Fair Cosmetics. Both she and Mr. Johnson noticed the EBONY FASHION FAIR models struggling to find cosmetics in shades that matched their deeper skin tones. Fashion Fair was born in 1973 in answer to this problem and today it is the world leader in cosmetics and skin care for women of color.
Mrs. Johnson is an active member of many community organizations, including: the Chicago Woman's Division of the United Negro College Fund and the Woman's Board of the Art Institute of Chicago. She has received several honors including the Trumpet Award, the Chicagoan of the Year Award from The Boys & Girls Club of Chicago, Outstanding Black College University Alumnus Award from the Alabama A&M; University Alumni Association. She has received the Honorary Doctorate of Humane Letters from Talladega College and Shaw University. Mrs. Johnson is a Golden Life Member of Delta Sigma Theta and is a member of the Advisory Board of the Harvard Graduate School of Business.