Female models must be at least 5'10" or taller without shoes, American dress size 6-8 (full figure size 18-20).
Male applicants must be 6'2"-6'4" without shoes, suit size 44 to 48.
Three photos should accompany your résumé – facial close-up, full-length swimsuit (two-piece bikini for women, brief-cut swim trunks for men, one-piece for full-figure), fashion (suit for men, dress for women). Do not send photographs larger than 8x10. Name, address and phone number should be clearly printed on back of each photo.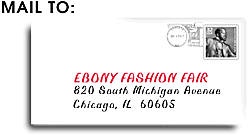 EBONY FASHION FAIR 820 South Michigan Avenue, Chicago, IL 60605
NOTE: Be sure to include your name, address and phone number on the back of each photograph. Photographs will not be returned!
WE ARE UNABLE TO ACCEPT PHOTOGRAPHS
OR INQUIRIES VIA E-MAIL.